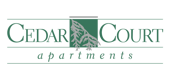 What People Are Saying...
Resident Reviews
|

Recommended: Yes
Thank you, Daria, for your review, we appreciate you and your family being part of our community and we are glad you are here! -Your Cedar Court Staff
|Recommended: YesIt's good — It's good
|Recommended: YesAppreciation of area — Me not being from Washington because of my job, i found this place to be comforting. My neighbors are nice and I tend to stay here until it is time for me to move somewhere else.
|Recommended: YesI dig it — I have none but one complaint. The neighbors are nice, it is quiet, i have my own parking spot. I would definitely recommend to a friend. I do wish the fitness center had a little more stuff but hey, it is something. Honestly, my only complaint, which is not on the apartment complex itself, but the residents. NO ONE picks up their dog's poop. I walk out my apartment and it smells like feces because there is an area where there are just piles of poop. Again, that is not on the apartment but the residents. Overall, 10 10 would recommend.
|Recommended: Yes
Great place to live — Quite and peaceful.
Alvin we are pleased to hear that we offer you a quite and enjoyable community that you can call home. If you ever need anything please don't hesitate to reach out to our office staff. As always your feedback is greatly appreciated. Thank you! Cedar Court Management
|Recommended: Yes
Love it here — Parking is very low .. to many cars for the available spaces .. but overall very nice people and I love it so far
Hello Braiden, Thank you for your kind words and feed back, we do offer carports and garages here at Cedar Court at an additional monthly cost! If you're interested in one of these assigned parking options please get in contact with the leasing staff so we can go over availability. As always thank you for being a valued resident of Cedar Court Apartments and please let me know if we can assist you with anything else!
|Recommended: Yes
Nice Clean Community — It's a nice neighborhood, very close to many things in the area.
Jason, Thank you for taking the time to send us a review! We agree that we are definitely close to many places in the area. We really love our neighborhood feel to our community. Please reach out if you need anything! Your Team at Cedar Court
|Recommended: Yes
Great — The community is very nice, staff is friendly and helpful when needed. They make sure to take care of you when you need help with some issues. I haven't really contact them much but when I do they are there to respond. The place gets cleaned like almost every week by the cleaning staff. One thing I do notice is that I kept seeing dog's poo at least once or twice every month. someone hasn't really been cleaning up after their pet. Overall this place is nice
Hello Hien, Thank you so much for your kind words! Our main concern is our resident's and what they need to ensure they are as comfortable as possible within their home and our apartment community. We walk our grounds daily, trying to ensure that no one runs into these little messes and greatly appreciate you bringing this to our attention. Please reach out to the office so we can discuss this matter further to ensure satisfactory results. Thank you for continuing to be a valued resident here at Cedar Court Apartments! -Cedar Court Management
|Recommended: YesGood quiet complex — Safe, spacious and accommodating
|Recommended: Yes
A nice community — This is a really nice community and much better than our previous apartment. Parking is sometimes difficult, though this is a mild frustration. Maintennce has been helpful and property management is pretty nice.
Hello Danielle, Thank you for the great review! We are so glad to hear you are enjoying your time with us. If having a covered, assigned/reserved carport is something you would be interested in please feel free to call our office to discuss it. :) Have a great weekend! Best Regards, The Cedar Court Staff
|Recommended: Yes
Here is a nice people and this property is so beautiful — It is a beautiful place, nice people. Here is a small playground for kids. Also, I like the construction design at this apartment.
Thanh you for the great review, Denys!